System Certification ISO 9001 with IQNet and DQS GmbH

Since 2001, Proget engineering srl has always renewed its ISO 9001 certification within the required deadlines as to continue to uphold its objective of high quality throughout all of the planning and production phases.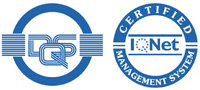 ISO 9001
Certification n° DE-428815 QM08
Product Certification UL-CSA with UL International.
Since 2005, Proget engineering srl has obtained the UL-CSA product certification for the American and Canadian markets.

Certification UL USA n° NITW.E252325

Certification CSA Canadian NITW7.E252325
This ulterior steppingstone enables us to meet the supply needs, marked and certified, of these countries, while continuing to maintain the highest level of quality.